Flemington Racecourse Mounting Yard SR4660ST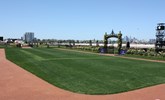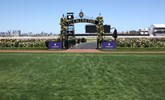 Location: Mounting Yard Flemington, Melbourne
Variety: SR4660ST Turf Type Ryegrass
Details: A custom turf project from our distributor Anco Turf, the new Mounting Yard and Members Lawn is looking amazing. Established following the construction of the new Members Stand they chose to oversowing SR4660ST Turf Type Ryegrass onto Nullarbor Couch. The two grasses were specifically selected to provide a surface that would look good year round, and throughout a tough Melbourne winter, plus able to have a mowed pattern on the surface.
Australian Seed and Turf Carrum Downs - Fine Fescue


Australian Seed and Turf in Carrum Downs have been supplying a 100% Fine Fescue Blend as Instant Turf for the past few years. Interest in Fine Fescues has grown significantly over the last 5-10 years. Prior to this customers were unable to source this product as Instant Turf.
Advanced Seed created a blend of premium Fine Fescues for use on Golf Course surrounds. This blend contains varieties that are disease resistant and can provide strong Winter and Spring growth with low fertiliser input.
The blend pictured was sown mid April. With the arrival of Spring when soil temperatures increase, this blend will bind together with excellent results. It contains varieties such as SR5130 Chewings, Ruddy Creeping Red and Shoreline Slender which have the ability to be cut short for Golf Course Management. They are high Endophyte varieties which will produce a premium surface for golf course surrounds.
When warm Spring temperatures return we're expecting excellent growth and a premium turf result.
For seed enquiries, please call Advanced Seed on 03 9462 0340 for details of the blend.
Casey Fields - Cranbourne


Casey Fields have been using Olympic Gold with the turbostrike enhancement on their main oval for the past 12 months.
Head Groundsman, Anthony Kennedy, says' the seed matures quicker with the Turbostrike coating'
This winter the main oval has held it's grass cover. However, the last month of constant rain has seen it become heavy underfoot.
The Council has decided to add extra drainage to the ground after the football season. It will be thinned out, drainage installed, and oversown again with Olympic Gold. It is planned to fully reconstruct the oval in the next few years.
Casey Fields are also undergoing the development of 4 new soccer fields which should be ready for seeding in Spring. Anthony has recommended the Olympic Gold product for this project.
DLF Annual Study Tour
In November 2018 Advanced Seed inconjuction with our key supplier and host DLF Seeds ventured to the south island city of Christchurch in New Zealand for our annual study tour.
The group consisted of both Australian and NZ members of the turf industry including sports field & stadium mangers, technical representatives and agronomists.
Whilst Christchurch didn't welcome us with kind weather over the first day the hospitality from DLF staff Peter Griffith's & Sam White was very warm.
The tour commenced with a visit to DLF NZ office where the group gained a better understanding of DLF's position in the world seed market - very large. Following this we travelled to the breeding station at Ryan's rd. where the group was taken through the breeding process undertaken from inception through to the commercial market. This visit also included trial plot inspection. A visit to NZ seed lab was our next stop where the group was stepped through the all important seed testing phase including purity & germination testing.
The second day had the group traveling via mini bus south into the Canterbury plains the heart of seed production in NZ.The group visited production fields of SR4600 perennial ryegrass and Grande 11 Tall Fescue.We heard first hand from the grower the process and challengers faced in delivering seed to our market. Following our field visits we drove to South Islands seed the biggest seed cleaning plant on the south island. The size of this operation was impressive with the plant running 24 hours a day for 6 days across the larger part of the year.
From breeding to commercial sale the process provided a valuable insight for the group and a better understanding and appreciation into the work and investment that goes into producing new seed varieties.
Advanced Seed would like to thank their partner and host DLF Seeds - Peter Griffiths ,Sam White and staff for their fantastic hospitality over the three days.






Lake Karrinyup Golf Course
The Lake Karrinyup Golf Course in WA undertook a greens renovation in mid 2017. Nine greens were sown with 007 Bentgrass. This variety was chosen for its performance in hot climates.
The club used Evergreen Turf Covers for seed establishment and germination took place after 7-8 days. They had their first mow 4 weeks later. The greens were opened in November 2017 with the members saying they were the best greens at Lake Karrinyup for the last 30 years.
The other 9 greens were renovated and seeded with 007 Bengrass in July 2018.




Advanced Seed Seminars with Dr Leah Brilman, Seed Research of Oregon
---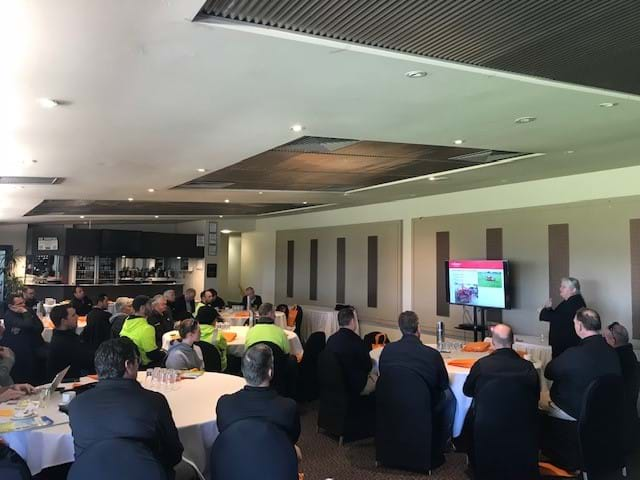 Advanced Seed were excited to host two seminars with Dr Leah Brilman; Seed Research Director in August.
Our first seminar focused on sports turf in the golfing industry while the second seminar was directed at the sports field industry, and also featured a presentation from Professor Adam Bryant on knee injuries and sports field surfaces.
The first day was held at the Metropolitan Golf Course, Oakleigh South which is currently gearing up for the World Cup of Golf. Dr Brilman's thorough presentation on the breeding of the ryegrasses, fescues and bentgrasses was great to digest.
Following the presentation, Metro superintendent David Mason took us to his trial plots and gave a talk on what varieties were going well in his trial, and what challenges he would be facing for the upcoming World Cup. It was great to see our varieties trial so well.
The next day we ventured to Essendon Football Club for seminar two, with representatives from organisations such as Etihad Stadium, the Melbourne Cricket Ground, and AAMI Park among the guests to attend. This seminar focused a little more on the Ryegrasses that we distribute to Australia's leading sporting facilities, as well as some more sports fields focused on science which is Leah's expertise.
We concluded with a short trip to Flemington Racecourse to see Advanced Seed's Ryegrasses and course proper blend.
Seed Research Tour
---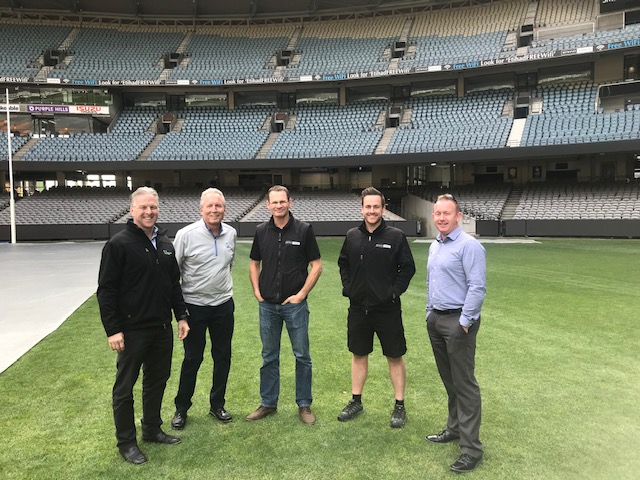 At the end of May, Advanced Seed were lucky enough to host Bill Dunn, Executive Vice President, Professional Division at Seed Research of Oregon for a number of days.
Bill's first day saw him come out to see our facilities and meet up with the team, along with Peter Griffiths from DLF Seeds New Zealand who planned a visit to coincide.
During his visit we got to pick Bill's brain on fresh news from Seed Research in Oregon and listen to some of his wisdom from his time in the industry.
It was then time for some of the team to head out to a few of Melbourne's golf courses and stadiums . A big thanks to Richard Forsyth from Royal Melbourne Golf Course and Dave Mason at Metropolitan Golf Course for hosting the team while they toured two of Melbourne's best courses.
The following day Bill, Peter and Advanced Seed Managing Director Mick Ahearn were able to visit AAMI Park and were hosted by Adrian Black, Olympic Park Precinct Manager.
Advanced Seed's Sales Rep Tim Stephens then joined the group for a tour of Etihad Stadium, hosted by Gavin Darby, Etihad Grounds Manager. It was great to learn about the challenges of an indoor stadium, especially one with such a diverse amount of events on it.
The group then met up with representatives from Globe Growing Solutions who took us to the MCG where we could soak in the atmosphere of one of the world's most popular stadiums.
Massive thanks to Bill Dunne for coming out to share his knowledge on our industry and we look forward to seeing you soon!
Casey Fields - Cranbourne, Victoria
---

These are outstanding results for Casey Fields, a 70 hectare Multi Sports Complex in Cranbourne, Victoria.
The main oval is home to the Casey Demons VFL team and the Melbourne Football Club Training Facility.
The Main oval is a couch base. For this renovation they chose to oversow with Olympic Gold – a blend of three ryegrasses:
34% SR4600 Turf Type Ryegrass
33% SR4660ST Turf Type Ryegrass
33% Bonneville Turf Type Ryegrass
And the reason it looks so good… Olympic Gold has shown outstanding qualities when used in Instant Turf. It's also shown good resistance to the salty irrigation used at the field.
An amazing result!
High Capacity Metro Trains Project - Pakenham, Victoria
---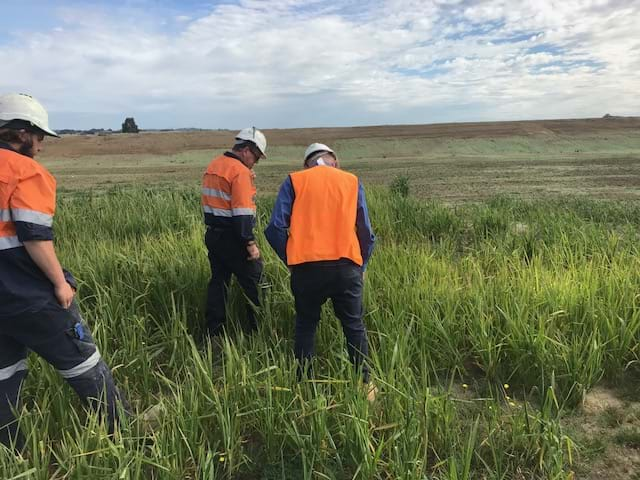 The High Capacity Metro Trains Facility needed a large scale hydroseeding project to spread seed.
With the facility producing 65 next generation trains as well as a training Maintenance facility with a 1.5 km training testing track, they required a large scale area covered.
Advanced Seed was approached by Statewide River and Streams who won the tender to hydroseed the main areas as and when they become available.
In facilitation with Advanced Seed the 1st hydroseeding project was completed in December 2017 and following rain and germination you can see Japanese Millet/Cocksfoot noticable in the photos.
More seeding is to follow.
North Launceston Bowls Club
---

Ray Boucher, Greenkeeper at North Launceston Bowls Club has been using Dominant Xtreme for over 10 years for new sowings of his greens or yearly oversowing.
Ray consults to many clubs and recommends Dominant Xtreme.
Dominant Xtreme has changed it's Bentgrass Varieties over the years and is now a blend of Tyee, 007 and SR1150.
Ray likes the Dominant Xtreme as a blend which provides him with a versatile mix for all seasons.