007/777 Creeping Bentgrass in 2021 Olympics Host Venue - Kasumigaseki Country Club East Course

View looking toward the 3rd Green, East Course, Kasumigaseki Country Club
For decades, the East Course featured the two-green system common on many Asian courses, where each hole had two greens, with one green featuring a cool season grass variety and the other in a warm season grass, to ensure that the best possible conditions were playable year-round.
Renovated in 2016 by American architect Tom Fazio and his son, Logan, the Kasumigaski's double greens are now into single green. The greens are now changed into varieties of bent grass with zoysia on the rest of the course.
OO7/777 Bentgrass is an advanced generation bentgrass. It was selected for improved Dollar Spot resistance, bright dark green leafy colour, excellent winter colour with no purpling and a vigorous, uniform, moderately dense growth habit.
Provide the highest quality of playing conditions year round with 007/777 bentgrass. Request a quote today.
ANTEP Ryegrass Trials Pakenham, Vic

We are pleased to be part of the ANTEP (Australian National Turf Evaluation Program) current ryegrass trial at the Evergreen Turf farm in Pakenham. The trial consists of a permanent section and an oversown section with 36 entries as part of the trial. The trial has just experienced its first summer last January-February 2021.
As the trial moves into it's second year wear will continue to be applied to measure the wear tolerance and recovery potential of each variety, along with the assessment of colour, quality, density and disease incidence. Next summer the trial will also be assessed during dry down period to see how each variety copes with drought stress.
Results from the trials will be presented at education days throughout the year as well as the 2021 Australian Sports Turf Management Conference on the Gold Coast in June, where Advanced Seed will be present.
We recently visited the plots and were really impressed with how dark green our plots look. More info will follow when the trial finalises.
SR 4650 Perennial Ryegrass Trial
Huge thanks to Andrew Boyle, Victorian Sales Manager at Greenway Turf Solutions for a trial of our 4650 Perennial Ryegrass.
For ordering information contact our sales team.
Product Page: https://www.adseed.com.au/browse/seed-varieties/sr4650-perennial-fine-ryegrass
Details:
SR 4650 Perennial Ryegrass (PSRX-3701) (Lolium perenne) is an attractive, leafy, endophyte-enhanced ryegrass that has the highest level of Gray Leaf Spot resistance of any perennial ryegrass. It has demonstrated high overall performance under various maintenance levels ranging from golf course fairways to residential lawns. Early development of spreading rhizomes gives this variety increased density when used for permanent turf, along with improved wear tolerance and recovery.
FEATURES
• Highest Gray Leaf Spot resistance
• Excellent wear tolerance
• Excellent seedling vigor
• Early development of spreading rhizomes
• Excellent seedling and mature plant salt tolerance
• Excellent for permanent turf and overseeding warm-season grasses
• Ideal for use on golf course fairways, tees and roughs, sports fields, schools, parks and lawns
BENEFITS
• Disease resistance results in fewer fungicide applications
• High levels of viable endophyte for insect control and stress tolerance
• Fast establishment
• Excellent drought tolerance
• Tolerates poor quality irrigation water
• Rapid tillering for excellent wear tolerance
Advanced Seed Celebrates 20 years!
We are thrilled to reach a major milestone in our business as we celebrate 20 years in the industry in 2020.
Founded by Brian Hinman at Newlands Rd Reservoir, Advanced Seed setup as a wholesale supplier to the Retail & Professional Seed market in December 2000. The company has had successful longstanding customer relationships with the likes of Brunnings, Globe, Anco and many others over the twenty year journey.
While forming important partnerships with industry leaders, we have also gained exclusive distribution rights to leading suppliers such as Seed Research of Oregon, DLF, Earthway and Evergreen Turf Covers.
We are thankful to our past and present customers plus our other valued industry partners as we take time to celebrate the success we have had as a team over 20 years. We look forward to many more years ahead.
Mick Ahearn
Managing Director
Advanced Seed
Lawn Tips x Advanced Seed: Overseed + Topdress
Great update from Ben at Lawn Tips. Lots of growth on his Ryegrass and Kentucky Bluegrass blend.
Day 24 and he's overseeded and topdressed with nitro top dress to help retain some moisture with our Landscape Range Premium Blend.
Instagram: @lawntips
Facebook: https://www.facebook.com/lawntips
Twitter: @BinSums
Website: https://www.lawntips.net/
Lawn Tips x Advanced Seed: Grass Seed is Up!

The grass seed is up! We're excited to see results 8 days after seeding. See for yourself.
Ryegrass comes up first
Kentucky Bluegrass takes 10-15 days in Springtime temps to come up
Watering Tip: 4x a day for up to 30 days
A good quote from Ben "Don't worry about anything other than water during the germination phase - it's the most important thing."
Watch the full video here.
Watch the preparation, hydromulching and seeding phase here.
Instagram: @lawntips
Facebook: https://www.facebook.com/lawntips
Twitter: @BinSums
Website: https://www.lawntips.net/
VGCSA welcomes our very own National Sales Manager, Matt Scott as one of their newest members

Big thanks to the Victorian Golf Course Superintendent Association (VGCSA) for featuring our own Matt Scott this month!
Staff Structure
National Sales Manager, working with Mick Ahearn (Managing Director) and office and warehouse staff in Campbellfield.

Tell us about your background in the Industry
I started out at Mt Waverley Bowling Club in 1985. I was looking at a job that would allow me to work outside. I worked at several bowling clubs around Melbourne before starting work at Commonwealth Golf Club in the early 1990s through their course reconstruction. I briefly went back to a bowling club before starting my career in sales. I started with Turfcare Supplies for 12 months before going to Turf and Irrigation where I worked for five years with Mick Ahearn and Rick Pullman, as well as other industry professionals and great people.
In 2001, I started at Simplot (who bought Turfcare Suppliers Vic). I worked at Simplot for 17 years where I was General Manager, Head of Operations in Australia and South East Asia. Working for a USA based company had many challenges, however, also had its rewards as I was privileged to frequently visit golf courses and turf facilities throughout the USA, Japan, Singapore, etc. This included a tour of Pebble Beach Golf Club just before the US Open 2010 and the Olympic Club before the US Open in San Francisco in 2012. I also attended every GIS (Golf International Show) in the USA for 16 years working on the Simplot stand. As well, I toured a lot of sporting facilities (including AT&T Baseball Park, San Francisco, home of The Giants) and had the chance to take both customers and employees to these events and the Simplot facilities.
In 2019, I assisted with the sale of the Australian operations of Simplot to Greenway Turf Solutions and took up the position of Sales Representative at Advanced Seed. I was promoted to the role of National Sales Manager when Rick Pullman retired in February 2020.

Give us an overview of your day to day role at work
In my current role I deal with a diverse range of customers including civil contractors, hydroseeders, wholesalers (nurseries and retail shops) and the professional turf market through our distributors (GTS and Globe). I visit customers and do site visits to golf clubs, race tracks, sporting ovals, councils, etc. We are a small seed business with a substantial presence in the Australian turf and domestic lawn markets.

I usually spend most of my time on the road although, with COVID-19 this year, I have been working from home since March 2020. I look forward to getting back out and talking again to the great people in our industry.

Most pleasing/rewarding moment during your career so far?
I don't think there is just one moment, although working with great customers, being involved in quite a few major tournaments and events, and being made to feel a part of them is very special.

OFF THE JOB
Age 52

Family
Wife Liz, daughter Lucy (21), son Jonny (19) and beloved Old English Sheepdog Martha (11)

Hobbies and interests
My main interest is racing my historic Formula Ford and Formula Vee as well as classic cars. I also enjoy training at a boxing gym and holidays with my family.
Greatest sporting moment(s) you have seen
I was going to say the Richmond premiership in 2017, although maybe 2019 and 2020 as well! Go Tigers.

Favourite Golfer(s) Moe Norman
Lawn Tips x Advanced Seed Premium Blend Project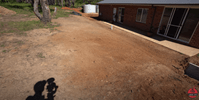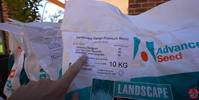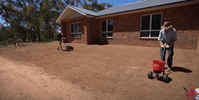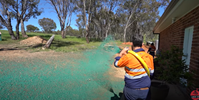 We've collaborated with Youtube lawn guy Ben Sims a.k.a @lawntips to use our Advanced Seed Landscape Premium Lawn Seed Blend and Earthway 2600a spreader.
Ben used the premium lawn seed blend with the Hydroseed sprayer truck to his 300sqm area and with the 2600a spreader to his 100sqm area in front of the house.
With a lot of preparation they were in a hurry to get the area ready so they could seed it before it gets too hot.
Using our Advanced Seed Premium Blend with 40% Kentucky Bluegrass, 30% SR4660ST Turf Type Perennial Ryegrass, 30% Sox Fan Turf Type Perennial Ryegrass, it will be quick to germinate.
It is a hardy blend that is good for South Australia, Victoria and Canberra.
Make sure to follow Ben as he gives loads of great tips for lawn sowing! And more videos will follow.
Instagram: http://instagram.com/lawntips
Facebook: https://www.facebook.com/lawntips
Website: https://www.lawntips.net/
Parkseeds Production Visit Dec 2019

In early December, Advanced Seed in conjunction with Anco Turf embarked on road trip visit to Parkseeds in Mansfield.
Included on the tour were the leading racetrack managers from Melbourne's metropolitan racetracks. Along with Mick Ahearn from Advanced Seed were Bruce Stephens from Anco (our Bus driver for the day!), Liam O'Keefe from Flemington, Tim Bailey from Sandown, Marty Synan from Moonee Valley and Brett Thomson from Seymour.
The tour of the production facility was led by Shane Callahan with additional input from manager Scott Parks.
It was an interesting day with all of the group viewing the cutting, harvesting and the cleaning aspects of production.
Overall, the day provided a great insight into the process that goes with producing seed ready for sowing on their racetracks. See the video on our Advanced Seed Facebook page.
And what better way to finish up the day than a great lunch at the Mansfield hotel before heading back to Melbourne.
DLF Tour of NZ 2019
We love our annual trip to DLF Seeds NZ in Christchurch NZ and the trip this year was another great success. Joining us this year was Andrew Boyle, State Sales Mangager for GTS and Sean Towse from Statewide Turf Services.
We started the tour at the DLF Breeding station in Ryans Road, where we were shown the process of breeding new varieties of seed.
Next we visited the NZ Seed Laboratory and were shown how they test for purity and germination as well as testing endophyte levels and differences.
We were then shown the new "Nga Puna Wai sports facility in Christchurch, an amazing multi million dollar facility with Athletics, Rugby, Soccer and Hockey.
It was then onto Ashburton to visit with Ross, one of the farmers that grows seed for DLF. In this photo is a crop of SR4600.
Our last stop was the South Island Seed Dressing facility which is the largest seed cleaning and blending facility in the southern hemisphere.
Very informative, as always and a well planned trip, thanks to DLF!
Matt Scott
Territory Manager
Advanced Seed







Earthway Flex Select Range
The EarthWay EV-N-SPRED® FLEX-SELECT Series of adaptable Commercial and Professional broadcast spreaders. Using interchangeable trays, the F-Series models with hopper sizes of 36Kg and 59Kg, these units are ideal for any flowable material. To understand the models watch the quick video from Earthway.
F130 Broadcast Spreader: 59kg capacity.
F130T Towable Broadcast Spreader: 59kg capacity
F80D Broadcast Spreader: 36kg capacity.
F80PD Professional Series Broadcast Spreader: 36kg capacity.
F80SD Stainless Steel Broadcast Spreader: 36kg capacity.
---
Waratah Wholesale Product Expo 2019

Our valued client Waratah Wholesale in Launceston held their annual Product Expo Show for 2019 at the Country Club, Launceston.
The show is set up by their suppliers to exhibit their range for the upcoming Spring and Summer period.
Advanced Seed, as a Supplier to Waratah Wholesale had their range of Rapid Green Products on display.
Waratah Wholesale supplies to nurseries, hardware stores, landscapers and other businesses in the industry.
Advanced Seed's Rick Pullman had a great trip and thoroughly enjoyed catching up with the Waratah Wholesale team and other expo attendees.
Waratah Wholesale
76 Bathurst St
Launceston
Ph
Waratah Wholesale
1A Tara St
South Hobart 7004
Ph:
---
Albion Rovers Football Club - Brimbank Council

City of Brimbank soccer ground home of the Albion Rovers Football Club. The ground is a grand prix couch oversown with SR4650 late Feb.
As you can see mid July the fields are holding very well with good density and colour from the heavy riggers of winter soccer in Melbourne.
Parks manager Spiro and assistant Tyson are doing a great job with the fields.
To see all the images go to Our Gallery.
---
GIS Show February 2019 - San Diego

Mick had the pleasure of going to the GIS show in San Diego February 2019. He had the pleasure of meeting with our key suppliers and making new connections. Mick met with Earthway's John and Brian who we are the Australian Distributor for, looking at new products to bring to the market within the next 12 months like the Flex Select Range. He also spent time with Dr Rich Hurley who is the renowned breeder of 007 and 777 Bentgrass, fantastic mind with lots of great knowledge. Mick also spoke with Billy and Neil from Evergreen who supply our growth mats which have been very successful at major stadiums and golf courses. It was also great to catch up again with Dr Leah Brilman who was in Australia speaking at one of our Seminars.
Our major seed supplier DLF were prominent at the show and Mick was able to spend quality time with our key supply people to keep up to date with the turf grass breeding which we will bring to the market.
The GIS is a large show which has between 15,000 to 20,000 delegates go through each year. It takes approximately 2 days to completely get through. We try to attend the show every year as it is good to always be looking for new products and opportunities.
See all the photos here.
---
Lawn Tips Kentucky Bluegrass SR2100 Project

If you haven't found him online yet we'll introduce you now… Ben from Lawn Tips is a massive lawn enthusiast. His videos and photos online are inspiring people to up their game when it comes to their lawn.
Ben is a Greenkeeper in Orange, NSW and he's about to kick off a new project lawn for his brother using our Kentucky Bluegrass 2100. He'll be recording video diaries on the steps they take and the progress as the weeks go on. If you're interested follow online via Lawn Tips Instagram, Facebook or YouTube. Details are below.
Here's the first video on YouTube:
Instagram: http://instagram.com/lawntips
Facebook: https://www.facebook.com/lawntips
Website: https://www.lawntips.net/
Keep watching for more videos in the weeks to come!
---
Kikuyu Availability

We've had lots of calls and emails regarding the availability of Turbocote Kikuyu seed. As most of the industry will be aware, Kikuyu seed is in short supply at present.
We've received our stock. Get in touch via the button below if you'd like to enquire or order this popular Warm Season variety.
---
Welcome to the new Advanced Seed Website!

It's a fresh beginning online for Advanced Seed.
We've been working behind the scenes to plan a better, clearer website for our customers. We think it'll be much easier for you to find the information you need for your projects, understand how we can make it run faster, smoother and with a better end result.
We've got more information about our brands and every product we supply, whether it be seed, fertiliser, or accessories. We've also got examples of successful projects Australia wide, from small landscaping work to huge commercial turf projects. So you can see the results from our customers.
Our new website is much easier to navigate and will work on any device you prefer.
Click here to view all our products
Click here to find out more about our resident turf experts.
Click here to see Case Studies from start to finish.
All the best from the Advanced Seed Team.
Turbocote Technology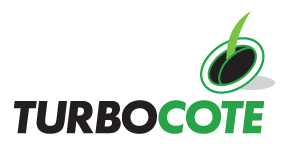 Advanced Seed is proud to introduce Turbocote: A new moisture absorbent, coloured seed coating on our Couch and Kikuyu Lawn Seeds. Turbocote consists of biostimulants as well as seaweed concentrate fertiliser to aid in nutrient absorption from the soil, develop strong roots and assist with stress recovery.
The coloured coating increases germination performance by retaining moisture around the seedling. Due to the rapid germination of our Turbocote varieties, it aids in establishing good ground coverage to prevent excessive weed growth.
Turbocote Couch grass is ideal for a drought resistant lawn this is capable of withstanding an Australian summer while flourishing with correct maintenance. Turbocote Couchgrass is a blend of hulled and unhulled Bermuda grasses that will establish rapidly in temperatures over 30 degrees celcius and will produce a course bladed grass that has good disease resistance and recovery.
Turbocote Kikuyu is extremely wear resistant and grows well where other grasses struggle. Once established Turbocote Kikuyu is very low maintenance and decreases water usage.
Turbostrike

We've developed a new flyer to explain exactly what our Turbostrike product is. You can easily see the features and benefits with some aerial shots of test plots comparing treated, untreated and coated Kentucky bluegrass seed.
Check out the flyer via the button below for yourself, but in a nutshell Turbostrike is a biostimulant and seaweed treatement that promotes rapid water absorption into the seed. It enhances the excellence of your seed's genetics, and is proven to:
Increase the speed of germination
Develop greater biomass more quickly
Promote greater tillering
Accelerate plant development
Elevate resistance to various plant stressors
Trials comparing seed treated with Turbostrike to untreated seed validate it's performance. Tall Fescue data is included in the flyer. To read the results click the button below.